Over the last 50 years Yaletown has been through a lot of changes. Yaletown an area of Downtown Vancouver that was formerly heavily industrial, warehouses and rail yard dominated the streets since the early 1800's. After Expo 86 (the first world's fair with the theme of 'Transportation and Communication – a World in Motion') the former industrial land became a whole area that was ripe for development. Most of the original housing from the 19th century has no longer survived but several of the older buildings from the industrial days still exist and are in good working condition to this day. The two most significant industrial streets were Mainland and Hamilton Street, although the buildings are no longer in use many of them have been converted into loft style apartments and offices with bars and restaurants on the ground level.
Yaletown has the fastest-growing residential downtown in North America at nearly 40,000 people moving to downtown within the last 15 years. Most of Yaletown's residents are younger professionals that are between the ages of 20 and 40 due to the amount of offices and office space that Yaletown has to offer.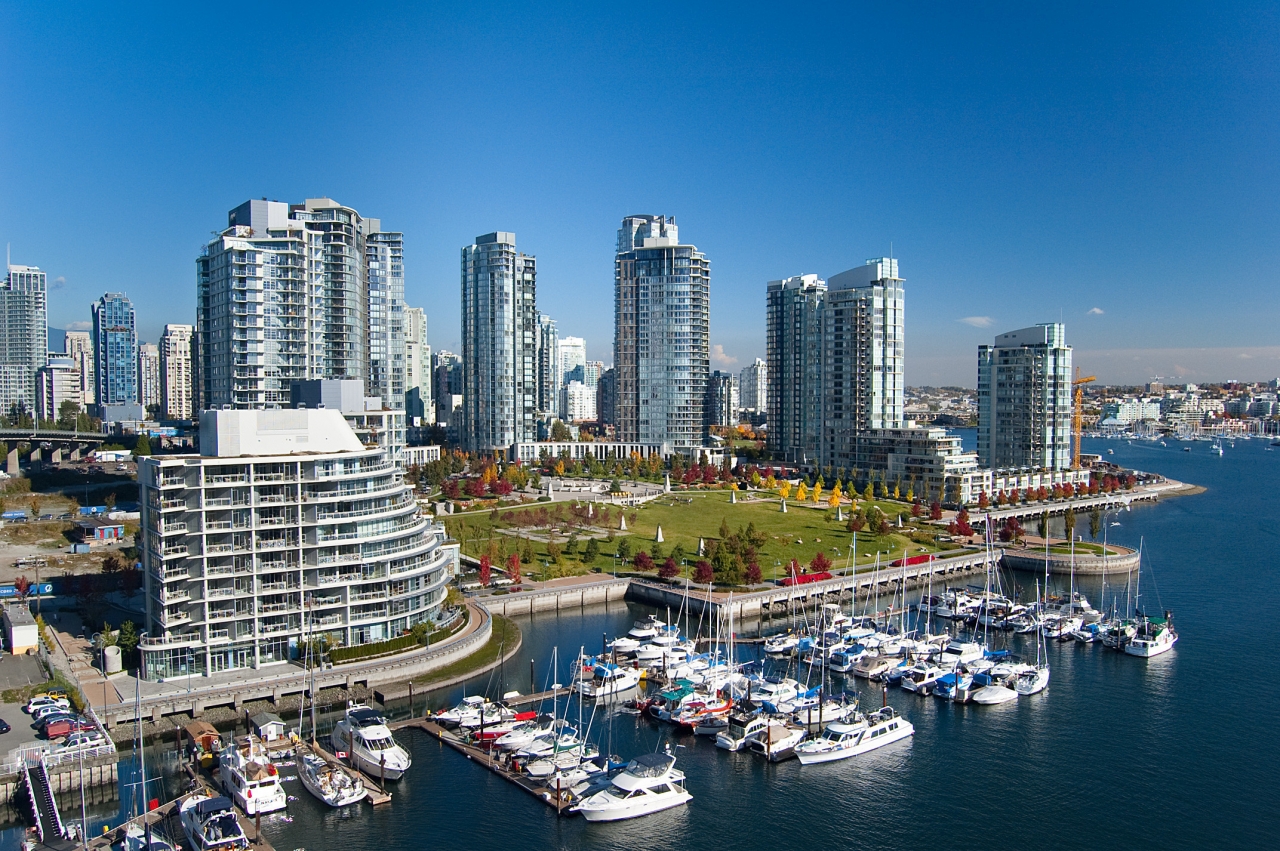 Other residents include wealthy penthouse owners and a small amount of younger families with professional working parents. The price of living spaces in Yaletown is always increasing, the original idea for the city was the fact that it was cheap yet professional but as the population has grown – the prices have slowly started the rise. The people of Yaletown have very similar interests as they all share a love for yoga, gyms and easy access to Yaletown's best gourmet food and hip nightlife. Yaletown is ideal for young, working families to start a life in a very popular area of North America with the promise of beautiful parks (Coopers Park and Helmcken Park to name the best…) and great, significant landmarks that make Yaletown unique from other neighbouring cities.
From visiting award-winning restaurants to going to the seasonal weekly farmers market, there is an endless list of interesting things to get involved with if you live in the Yaletown area. The engine 374 museum at the Roundhouse is also very popular with the locals as it's the steam engine that built Canada, period. Condos to penthouses, there is something for everyone in Yaletown.
If you're looking for things to do in Yaletown why not check out a bicycle tour of the area? Or even try an afternoon in the Jennifer Kostuik Gallery on Homer Street. There are endless places to eat too, locals recommend places such as Yaletown Brewing Company who specialise in seasonal beers on tap and traditional standard, pub food. What makes this place extra special is the famous patio view from the top of the building of Yaletown, a stunning place to eat and have a drink with friends. Other recommendations include, The Flying Pig located on Hamilton Street. They cook lots of fish and meat just to perfection and have an average 4.5 stars on Trip Advisor. Hurricane Grill offer anything from perfectly cooked steak to chicken wings and tacos. Located on the Yaletown waterfront, this gorgeous grill restaurant is great for people who love good food.
Events are always taking place throughout Yaletown, from big-time artists like Ed Sheeran and Lady Gaga to the Honda celebration of light. Every summer in Yaletown there are many festivals and exciting things to do, September brings Bike the Night presented by MEC and lots more. It's home to attractions such as the BC Place Stadium, the Queen Elizabeth Theatre, home of the Vancouver Canucks and the Vancouver Art Gallery. The famous OPUS hotel is also on the list of things you definitely have to do and places you must stay during your visit in Yaletown. In 2016, it was named one of the top 100 hotels to stay in by the readers of Conde Nast Travellers magazine. Art events are extremely popular with the wide variety of locals and tourists who pass through Yaletown. In the Contemporary Art Gallery there are two main exhibitions including 'A Sublime Vernacular: The Landscape Paintings of Levine Flexhaug' offering the first overview of the extraordinary work of Levine Flexhaug. In addition, the 'Gordon Bennett: Be Polite' exhibition is also on until late September about the rich layers of Australian and Western art history and politics.
Moving on from events and art in the heart of Yaletown, there are so many great buildings on offer in the town. Marinaside Crescent is a highly desired neighbourhood for people who are looking to buy a condo in yaletown. Right on the waterfront of Yaletown, the views this street has to offer is just unreal. The neighbourhood is full of beautiful buildings from The Concord to Quaywest 1 and 2. Currently listed are properties and most are newly listed which means they will be snatched up fast. New listings in Yaletown are:
605 1383 Marinaside Crescent has 2 beds and 2 bathrooms. Built in 1998 and selling for $4.5 million this stunning loft in The Columbus has a cosy fireplace and a relaxed, chill vibe. The Lutron lighting, with integrated speakers and translucent glass awaits you. There is outdoor area with plenty of space for friends and family to have drinks and enjoy themselves. The complex has a in suite laundry, exercise centre and pool, it is available to use whenever you want.
2005 1228 Marinaside Crescent is 964 square foot of pure heaven. Built in 1997, which makes it slightly older than the one discussed above. This condo retails at just under $1.3 million. It comes with an open-plan living and dining area whilst also having 2 big bedrooms and 2 modern, stylish bathrooms. The kitchen area is ideally located at the front of the condo with the bedrooms and living area overlooking the views of Yaletown. For those who like an office with a view, this property is for you. Professionals and families are openly welcomed into this beautiful home to enjoy all its amenities which include a pool (and jacuzzi) and many shops nearby.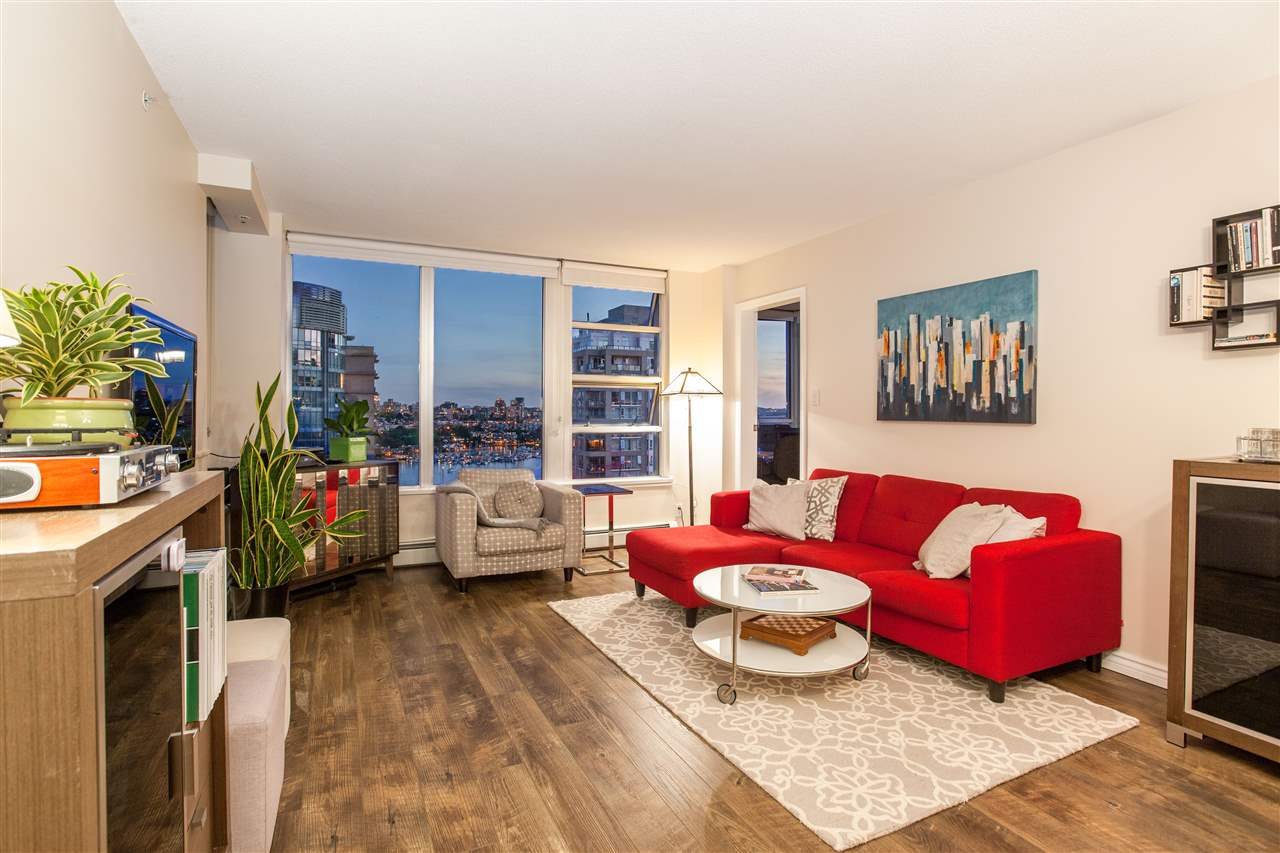 1807 1077 Marinaside Crescent is selling for just under $900,000 and was built in 2000. This 1 bed, 1 bath property isn't as open plan as the other condos talked about above. This is very much a closed off property, if you like floor to ceiling windows, granite counters and gas fireplaces then this is definitely for you. Amenities include a complex bike room, sauna and steam room and a beautiful garden. If the views you'll get from this property don't sell it then nothing will! There's also a big office if you're a professional and great storage spaces that will mean you have plenty to show but also plenty to keep away.
3207 1199 Marinaside Crescent is an open-plan living area that is simply stunning. This 1 bed, 1 bath is perfect for couples or young families that don't need much space, want to put their own furniture in their home or even just like having their own space that doesn't cost too much. Retailing at $930,000, this property is one of the cheaper on Marinaside Crescent as it's unfurnished but is perfect if you love having your own twist on properties. This complex has a great outdoor space that residents can book and have BBQ gatherings or parties. It's just a short walk to Urban Fare and only a block away from the Canada line.
2201 1328 Marinaside Crescent is bigger than all the other condos discussed above and this one would probably more likely be classed as an apartment as it has 3 bedrooms and 4 baths. It retails at $13 million and is over 3,000 square feet of property. Built in 2003 with its own dining room and separate kitchen, this is a perfect living space for a small family wanting to move to the heart of Yaletown. Amenities include a private triple garage with a storage room and one parking shared with a double garage. There is also a swirl pool and hot tub on the complex for those days you just want to chill out and relax.
Ready to buy a unique apartment in Yaletown? Get in touch with us!
Yaletown is forever growing through popularity and everyone loving their way of life.
Earlier this year the cities Mister Ice Cream Parlour introduced new black 'coconut ash' flavoured ice cream to
the store which also comes with a black waffle cone. If that doesn't make you want to see what else Yaletown has to offer then you must be crazy! Other great flavours from the parlour include double Oreo, avocado and crème brûlée.
Even more exciting is the opening of a Mexican-inspired 'Fayuca' which opened in April. The restaurant is located on Hamilton Street and is a north pacific twist on a Mexican eatery. The idea was to create a great atmosphere where people can enjoy good food and have a drink or two with their friends and family. The kitchen is ran by Dave Byron who was formerly in the Joey Restaurant Group and as it's a Scott Cohen joint, the eatery has a 20-seat bar. Everything from lunch, dinner, and weekend brunch to just having a good time. The restaurant has been a hit with all the locals who didn't hesitate to try out all the best plates on the menu. Specialities including potato dumplings, braised beef cheeks and grilled cauliflower. You can check out more of the menu here.
Yaletown is a lovely, busy place to live with so much to do and so many places to eat from. The place is filled with high-rise buildings and pretty parks that you'll never get bored of the scenery. View the sea from your condo window or even just from the shore itself, the possibilities are endless and Yaletown is just waiting for you to arrive…